You may be on the latest season now, but you may have missed some of these 15 interior design & architecture from The Walking Dead.
Well designer fans and architecture enthusiasts, delight! Amplified27 brings you a recap of the spaces and buildings that caught our eye.
WARNING: Possible Walking Dead TV spoilers ahead.
1. This Rustic A-Frame House
Why we love it: This decrepit beauty (sans the walkers) is something you could hashtag with #livefolk and #socality on Instagram. Its simple structure is perfect for outdoor immersion (just don't be in an apocalypse) and the weathered look makes it easy to blend with nature. On a fine day, you could even sit on the porch and play your guitar like Beth.
2. Morgan's Residence in "Clear"
Why we love it: When Rick met Morgan again on Season 3, Episode 12 of "Clear", it was an intense encounter along with Carl. It was at this white modern Neoclassical building on the left where Morgan halted the father and son below the ground, aiming a gun at them from the rooftop. The symmetrical alignment of the windows and the high arches lined with columns in ogee caps reflect the old porticos (full-height entry porch) from the mid-18th century. Southern Georgian houses were typically made of cement or stucco or mostly brickwork and the windows were double hung sash.
3. Case General Store
Why we love it: The faint brick color complementing the powder blue says a lot for a cheery shack amidst a zombie outbreak. This building looked like it popped out of a children's storybook and it even says "soda" and "ice cream" on one window. It will definitely catch your attention while on the run for supplies. Just check if there are walkers inside.
4. CDC Building
Why we love this: How can they blow up this beauty to pieces? The Walking Dead's CDC building was actually Georgia's Cobb Energy Performing Arts Centre. The asymmetrical form of this architecture and the reflecting grid windows give it that ominous futuristic look. I mean, come on, don't those 3 nested architectural corner say incurable disease to you?
5. Downtown Atlanta Alley
Why we love this: Another feat from the Neoclassic style, this robust building on the right boasts of perfectly lined up windows made of Roman arches and keystones. We first got a glimpse of this area when Rick came down with a horse from his hometown. It seems like it is made of stucco, a common building material in Georgian architecture.
6. Hershel's Dining Room
Why we love this: Evoking of the Early American style, Hershel's dining room is right up our alley. White painted walls and white silk table linen make the rich dark elm furniture and candlestick stand out. Notice the cupboard behind Hershel and you'll see scrolls adorning the top and the lotus ornament for its handles. If you disregard the two men in the photo, you'll spot the pop of color from his pink china set in the background which could make for a chic interior.
7. The Greene Family Kitchen
Why we love this: A closer look on the Greene family home and you'll see more American Heritage style. Nothing says more about the life on the ranch than the white and brown alternates on the counters as well as the classic spindles on the furniture. That island prep table gives the kitchen more space but may get more arguments than breakfasts.
8. The Governor's Apartment
Why we love this: The brick facade of this cosmopolitan herald contrasts its clean form and modern-made glass windows. The Colonial Revival building sits rightfully so in the middle of the urban landscape. The more you look at it the more you'll see it has an uptight character, which seemingly warrants for authority. No wonder they picked this be to The Governor's residence.
9. The Buildings On Main Woodbury Avenue
Why we love this: The quaint charming town of Woodbury covers up its eerie bloodlust with these beautiful buildings reminiscent of a theme park attraction. They may be small but they do make up in color. Most doors and window frames are lined in white or brown on brick, stucco or concrete finish painted in muted earthy tones.
10. The Greene Family Farm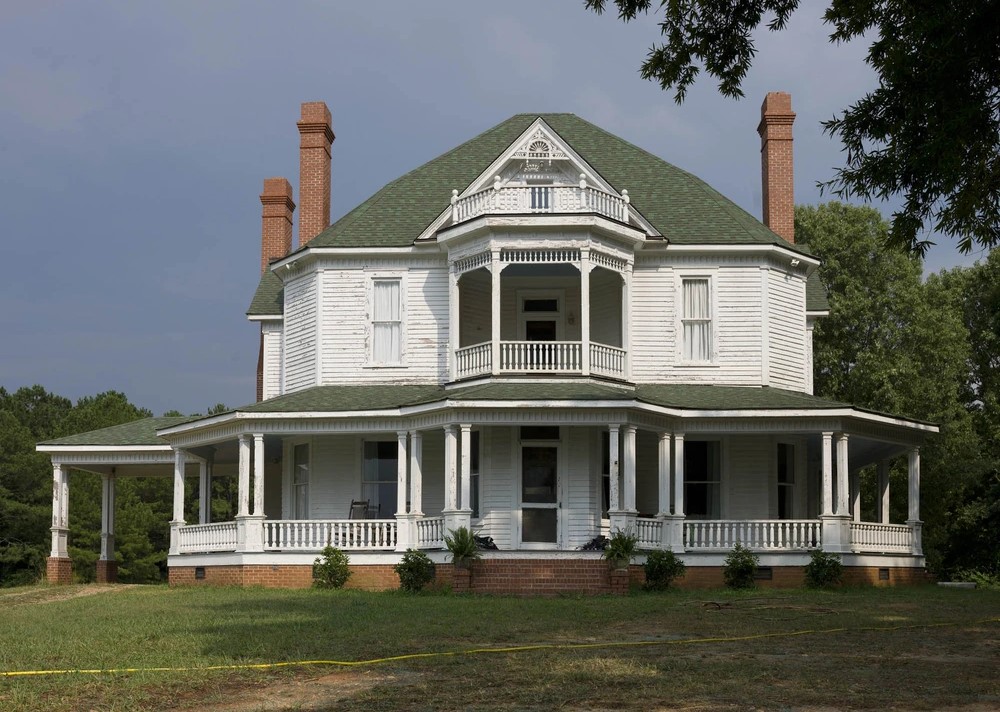 Why we love this: If it isn't obvious how much we love the Greene's estate, then we'd like to add another one on our list. The exterior of the farm manor is a sight to behold even from afar, which is what Rick and the gang instantly noticed upon arriving here in Season 2. A cross between Early American and Georgian with a Victorian-inspired balcony and porch, this stunner has wide open patio great for an afternoon chill-out or planning your great escape from the horde of walkers.
11. Rick's House
Why we love this: This was the benchmark of all things epic. We first saw Rick struggling to cope with the loss of his wife and son, and scrambling back to his abode was not an easy task. Like the other Georgian styled houses, we found Rick's home a tiny treasure in Season 1 with its elevated foundations, framed pediments and a clapboard siding. We're not huge fans of its grey-green wall paint though, had it been white we'd probably swoon over it. But it has to be that way for the show, brick and all. It even reminds us of that beginner house you get in The Sims, where the Newbie family (Bob and Betty) lived.
12. Art Deco Building From The Tank Scene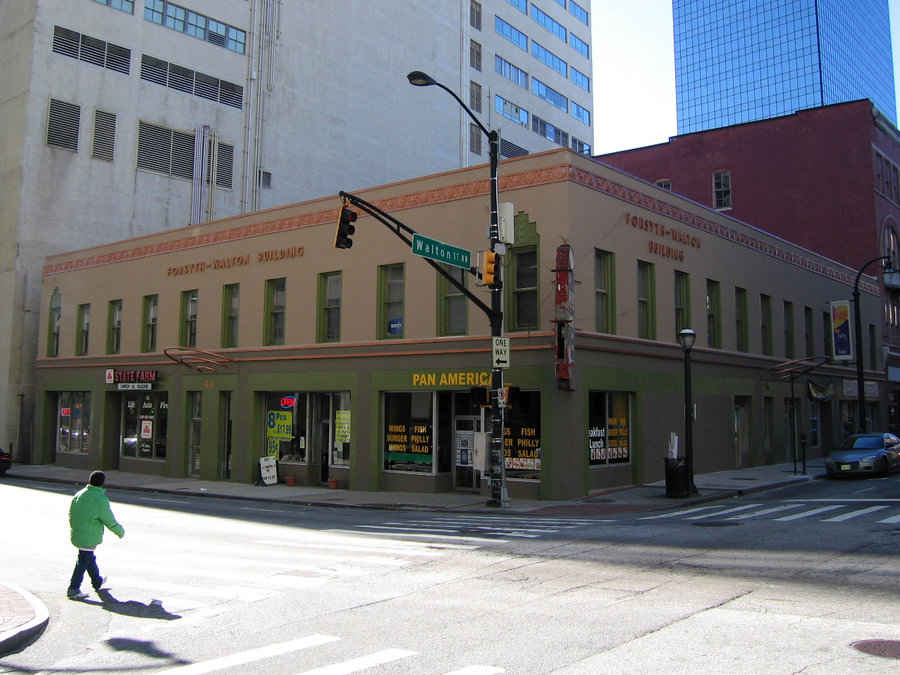 Why we love this: In real life, the Forsyth-Walton Building in Downtown Atlanta sits ordinarily on a busy intersection. But the reason why it's on this list is because of its history. It's a two-floor Art Deco commercial structure that's now in danger of demolition. It has a nice vintage tale to its name: during the 1920s it served as "The Pipe Corner of the South", and the smoke rings from that now-broken neon sign outside would light up and animate.
13. Carol's Kitchen In Alexandria
Why we love this: There's not a lot of focus on the set designs of the Walking Dead locations, but this was a relief to see. Since Season 4 and 5, we've only been peppered by the long stretches of green and dirt (and occasional walker hordes) so it's a fresh view seeing Carol back as the housewife she once claimed to be. Only this time she's got more knife skills than being a cook and a good woman. We love the slate masonry wall as the splashboard, together with the adorning gold-rimmed plates plus the stainless steel sink and faucet you will never miss. The granite counter adds a subtle contrast to the white cabinets and window frames. If you even put that tone of light as your secondary kitchen light fixture, you can be the Carol Peletier in your own home.
14. Woodbury Town Hall
Why we love this: Is it the color or the form? We don't know but we love the town hall nonetheless! For a leader like the Governor we didn't think teal would be his color, but it works. The dentils and the arches supported by ionic columns are reminiscent of the Greek Revival period with a bit of a Moroccan flair. The front narrow windows topped with a cemented banner accent is a nice touch to offset the wider ones by its side.
15. Alexandria Houses
These 3 home interiors are the pinnacle of this post.
Why we love this: Starting with the main house, the space conjures a modern Duncan Phyfe look prominently drawn from the crossbar (X-shaped splat) chair backs with splayed hind legs and copper-wood accents. The structure is minimally tasteful with curved and straight lines sewn through the interior. What draws you to it is that American Civil War-esque bookshelf next to the American Morse Code poster (AMC, pun intended) and the Asian contemporary lamp. But most of all, it's the dining set that creates drama by opposing the whiteness from the other room.
Why we love this: The second house is more of a mid-century modern. Again the dining set catches your attention while placed at a receding neutral background. Its chairs although mid-century, reminds you of a modern take on a Greek chair. But hey, all these stuff didn't matter when Daryl ate his homecooked possum.
Why we love this: Deanna Monroe's house is where our team of survivors were interviewed before being accepted into Alexandria. That tufted black leather couch screams "please be serious because you're about to be grilled" yet we can't help but to put it on our wishlist. The photo may seem cluttered but it's the built-in bookcase we really like here in between the two windows which, if we renovated, could be made into a comfy seating area.
---
Enjoyed this? Did we miss anything else?
Comment below or let us know on Facebook! We'd love to make a part two.